Creativity in packaging solutions
Mikropakk designs, develops and manufactures a wide range of rigid plastic packaging products, such as closures, adapters, holders, cans, bottles, cartridges for the food and cosmetic markets.
Our main focus is the production of high-value-added plastic packaging such as caps and closures and precision technical parts. A large segment of our clientelé comes from the pharmaceutical industry that we supply packaging solutions to, mainly caps with or without tamper evidence. Today we offer products for the chemical, food, cosmetics and household industry as well as for the building industry.
Specific developments at customers' request or at our own initiative enable us to continually improve and expand our range of products – with our R&D department and our own tooling shop we might just be the right partner to accomplish your unique injection mouolding needs, from the idea stage all the way through to mass production.
Duo core production model
Mikropakk relies on a duo core business model to integrate innovation management deeply into our company's activities. Having a duo core model means that while we continuously explore novel solutions to existing challenges we see on markets served, we keep supplying unique solutions to customers as long-term reliable partners.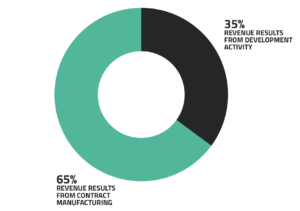 Contract Manufacturing
Under contract manufacturing, we undertake specific injection moulding packaging challenges commissioned by brand owners. Mikropakk delivers product design and manufacturing process solutions to meet specific needs, creates a prototype and mould, manages trial runs and scales production as needed as a reliable contract manufacturer.
Off-the shelf innovations
Our off-the-shelf product portfolio includes products that have been initiated entirely by Mikropakk. Having been serving various segments of different industries for several decades, we regularly come across packaging design challenges that we believe could be improved significantly, serving the entire industry. This is when we take up the challenge to develop a new solution creating value which we make available to all our customers. Some of our off-the-shelf innovations include the MIKATech Startech Anti-Drop Valve, the Mika 2k membrane system and rubber free valve.
Challenge us
We are ready to compete and prove ourselves in your packaging issues.