Genius – Integrated Grip Adaptor for PU foam
Easy to use PU foam applicator that rotates 360 degrees
The easy-to-use PU foam Integrated Grip Adaptor we named GENIUS was developed for Soudal, a market leader PU-foam manufacturer. The ready-to-use disposable PU can contains a one-component, self expanding polyurethane foam used for the installation of windows, door frames, filling of cavities and sealing of cavities. Disposable cans are mainly used by non-professional, hobby, do it yourself users.
Most products in this category for hobby users are far from being user friendly. First, they require two-hand usage as opposed to PU foam guns used by professionals that can be operated with one hand only. Second, they can often be used only once since the foam dries quickly in the applicator, leaving a lot of waste and a frustrated user behind.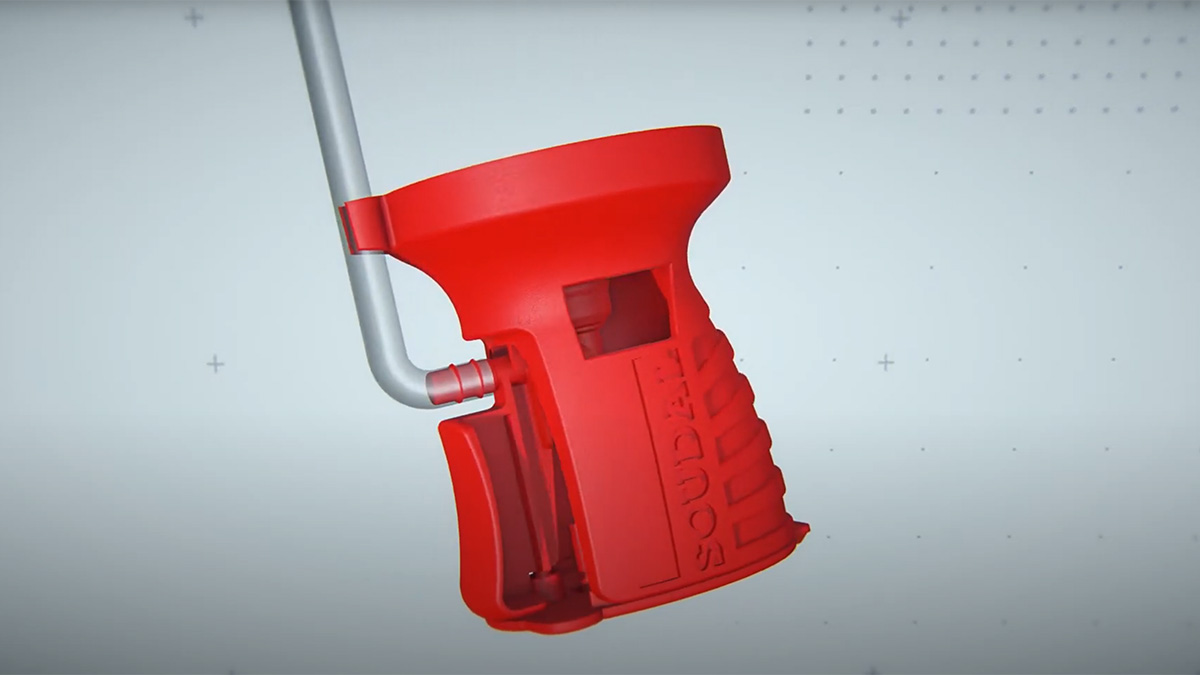 The challenge
Our main goal was to provide all the benefits professional users with PU foam guns enjoy to everyday users who opt for an easy-to-use applicator:
Ease of use with one hand only,
360° rotatable,
Stop and go application – usability multiple times.
Apart from these requirements, the manufacturer preferred a product closure that
Includes two wrapped protection gloves inside,
Features a warranty lock.
Our solution
We designed a simple solid plastic part that unities the benefits of foam adaptor guns and disposable PU cans. While maintaining the disposable nature, it allows for effortless application – easy and precise dispensing – and offers a convenient grip with ergonomic geometry.
To prevent accidental application, GENIUS is equipped with a safety lock making unintentional dispensing impossible, which is a completely unique feature no other dispensing applicator has.
Cost – as always – has played a key role in the development of the product. We wanted to come up with a solution that is not only competitive in terms of features and usability, but also in price. This is why we automated most steps of the manufacturing process such as the insertion of the tube into the adaptor and placement of the protection gloves into the closure to make manufacturing highly scalable.
GENIUS received the Innovation Award at the Aerosol & Dispensing Forum award in 2018 in Paris.
Challenge us
We are ready to compete and prove ourselves in your packaging issues.