During the first weekend of summer, Millenáris in Budapest was filled with food lovers for the 2023 edition of the traditional Gourmet Festival. Just a few years ago, such an event would have used thousands of disposable plastic plates and utensils, but today many are seeking alternative ways in the spirit of environment protection. However, in collaboration with Onyx Műhely, we showed the festival visitors that with smart recycling and keeping the material in circulation, disposable plastic can actually be given new life and thereby contribute to the mitigation of the environmental burden and to sustainability.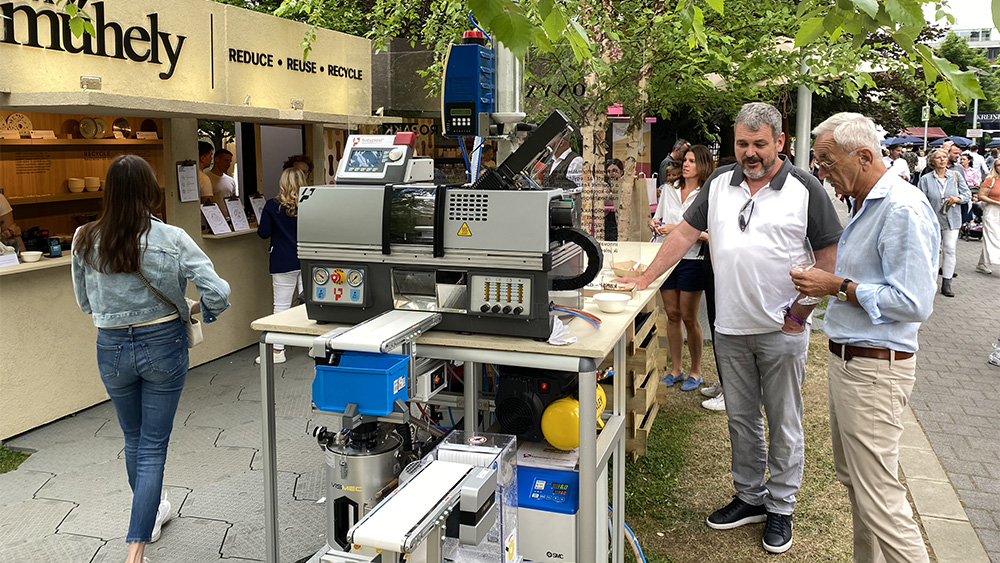 Plastic's new life through injection moulding
The centerpiece of Onyx Műhely's Metropolis menu is a conscious practice that minimizes waste and maximizes resource utilization in everyday life. In line with this, the carefully prepared dishes of the menu were served with simple, white polypropylene spoons, uniquely at this festival. However, there was no disposal, because we brought a special machine to the event that transformed the spoons into useful gifts.
Before using the machine placed next to the table, we asked the visitors to clean the spoons – wiping them with a napkin was just perfect. The prepared utensils were placed on a short conveyor belt by the guests, which fed the utensils into a grinding device, and then the plastic granules were dried because moisture affects the quality of the product.
The prepared ground material was placed in the upper, transparent cylinder of our table-top injection moulding machine. We prepared a tool in advance with dimensions of 74x74x120 mm for the device, which operates with a clamping force of 6 tons. The heated to 210°C and thus melted plastic was injected into the tool through a nozzle using a plunger, and so the injection moulding took place.
A single-use plastic transformed into a reusable tool for everyday life
The result is a shopping cart token, adorned with the slogan "Onyx Goes Green" and the Mikropakk logo. It serves as a durable aid for everyday life when the fitting coin is not at hand. The goal of our joint campaign with Onyx Műhely is to demonstrate, that disposable products can also be recycled. By intelligent handling of the material contained in them, there is no need for these plastic products to end up in landfills or incinerators, causing environmental burden. The advantages of such plastic products – low cost, fast and efficient production, a wide range of colors and shapes – are still the same today as what originally made them so widely used. With innovative thinking, thoughtful product design and material selection, as well as responsible waste management, we do not have to give up these benefits.