Tooling
Advanced tooling shop for industry-specific injection and blow-moulding needs
High-quality injection moulding is impossible without high-quality moulds and their regular and adequate maintenance. Our factory features a dedicated 1900 m2 tooling shop floor where all phases of development are carried out by 28 people involved in the design and manufacturing of moulds.
Keeping tooling in-house allows us to produce a prototype within weeks in case of new mould development projects and provide our customers with competitive advantage in cost, quality and lead times.
New mould development as added value
Our ever expanding portfolio of moulds includes those for our off-the-shelf products which are also placed at our partners' disposal. However we are always ready to develop according to your own needs and we have different business models to serve you.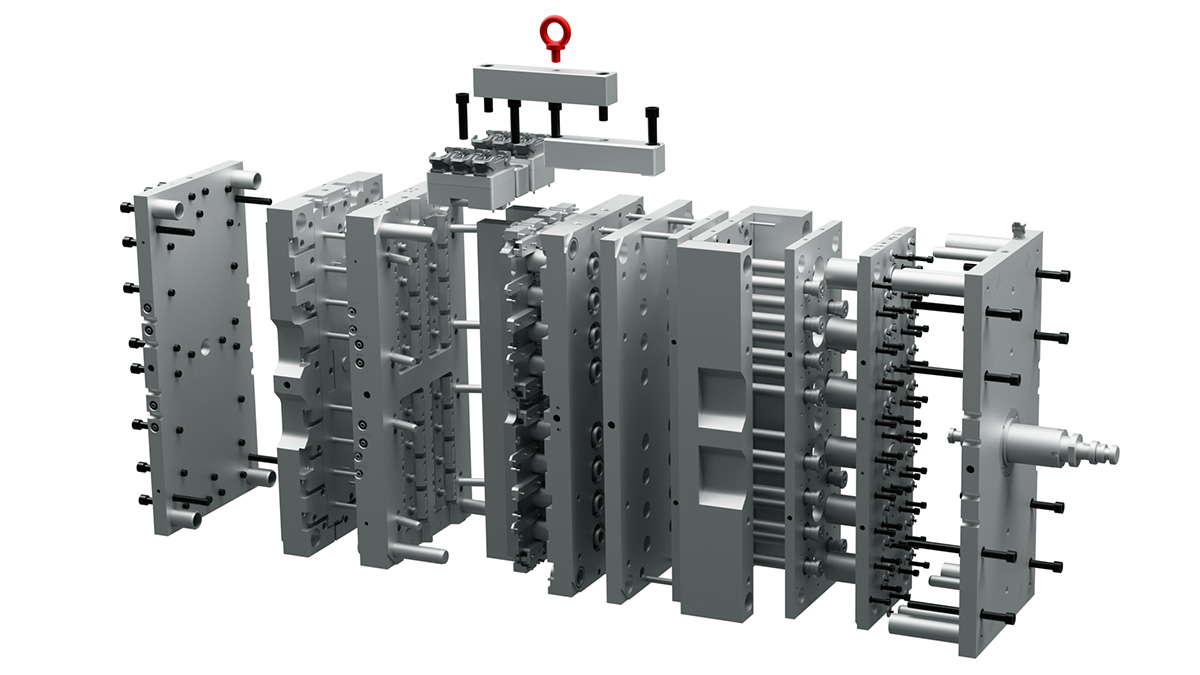 A great deal of engineering expertise goes into mould development, which we offer as an included service to our partners if long-term partnership in a contract manufacturing framework is established. Thus, our partners do not face high moulding costs up front.
We can supply moulds up to 32/64 cavities.
In-house design expertise
In our in-house tooling shop 6 engineers design and develop moulds with CAD/CAM softwares including PTC Creo, ToolDesign and PowerMill, PowerShape.
State-of-the-art machinery
Equipped with the most up-to-date machinery such as wire and block erosion machines, CNC-controlled millers, laser welding equipment and start hole driller, we deliver approximately 30 moulds a year, ranging from conventional designs to complex moulds with hot runner technology.
Storage & maintenance according to the highest standards
We have the capacity to store, maintain and use several hundred moulds in our own facility according to the highest safety and maintenance standards: all tools receive a barcode, they are handled with a preservative oil and are subject to general maintenance regularly. Moulds are subject to a general mandatory cleaning by an ultrasonic liquid cleaner before production starts if they're not in constant use. 
Refurbishment of stored and transfer tools
Our top priority is that all moulds remain in excellent working condition. In case of any technical issues arise during manufacturing, our in-house tooling experts are ready to deliver viable solutions immediately to ensure no downtime. Accurate refurbishment for transfer tools is also done by our tooling shop. In case of tool transfers, first a status report is prepared about the general condition of the mould, then we make an offer based on our refurbishment suggestions.
Challenge us
We are ready to compete and prove ourselves in your packaging issues.